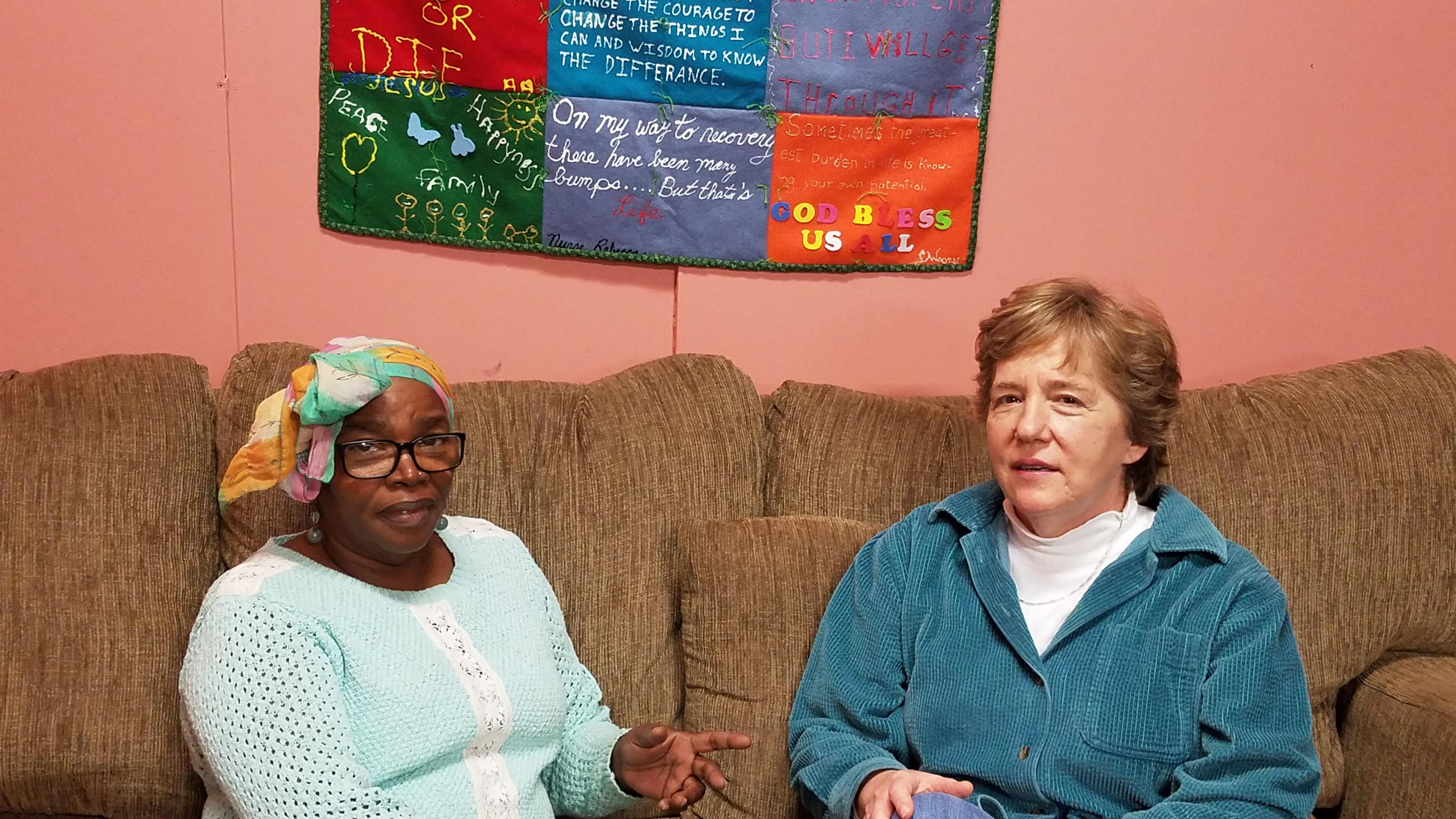 Advocates Anise Robinson and Ellen Kozlowski
Thirteen individuals had a chance to walk in a psychiatrist's shoes, experience prejudice temporarily, and practice assertiveness at a two-day self-advocacy training conducted by peer advocates.
Peer specialists, recovery coaches, advocates, peers, volunteers and CSP members attended the training held by the Community Advocates of Montgomery County, an affiliate of Hopeworx Inc., at the Hopeworx office on October 22 and 29, 2019.
"People said they could relate to all of it," said Advocate Ellen Kozlowski, who has been teaching the training for the past 14 years. "They were involved, they were answering questions. They said they could use the information and make changes in their lives."
Kozlowski and fellow Advocate Anise Robinson shared information during the interactive three-part training which focuses on attitudes, knowledge, and skills that help individuals learn to advocate for themselves. During each session, participants can volunteer for roleplays that highlight the differences between passive, aggressive and assertive behavior. Each session has examples of different situations in which persons may find themselves where they need to identify a problem, develop a plan and take action. There is also a roleplay that identifies housing discrimination and provides ways to seek help and take action to remedy the problem.
Robinson said participants also appreciated the handouts with tips on advocacy by writing letters and using the phone.  A form letter was shared for individuals who preferred writing a letter so they would know the correct format and assertive language to use. A handout including assertive statements to use for clarifications during conversations was also praised for its value in everyday situations.
"We talked about clarifications on the phone – repeating back to the other person what was said to make sure both parties understand," Robinson said.
In addition, assertiveness means not accepting the first answer if you're not satisfied, she added.
"You go to the next person and the next, all the way to the top if you have to – as far as you ne
need to go," Robinson said. "They understand now that you don't have to give up."
Kozlowski said over the years the most engaging and favorite parts of the trainings were the roleplays.
"What people really like is when they play a psychiatrist," she said. "It gives them some sense of authority and power."
Advocates and peers from the Norristown State Hospital also attended the training as well as volunteers from the Norristown Hospitality Center and the HopeMarket.
Some of the comments from the participants and evaluations included:
·       "We should definitely be doing more of these trainings."
·       "It was a great training."
·       "Excellent"
·       "You can definitely relate to the information."
·       "Will use all sessions to help my clients."
At the end of the training, participants had a volunteer homework assignment. Index cards were given to the participants so they could write down a problem that they intended to tackle over the next three weeks using the attitude, knowledge and skills learned at the training. The advocates will call each person at the end of three weeks to find out how they were doing and if they needed any assistance, Robinson said.
While the examples used in the training focus on problems a person in mental health recovery might encounter, the self-advocacy information is universal and can be used for many situations in life.
"You can use it in any situation in your life," Robinson said. "It can be housing, obtaining medical records – even problems with your sister. It's not just about medication."
The Community Advocates will be scheduling new trainings for 2020. For more information about the trainings, contact the advocates at 610-270-0375.