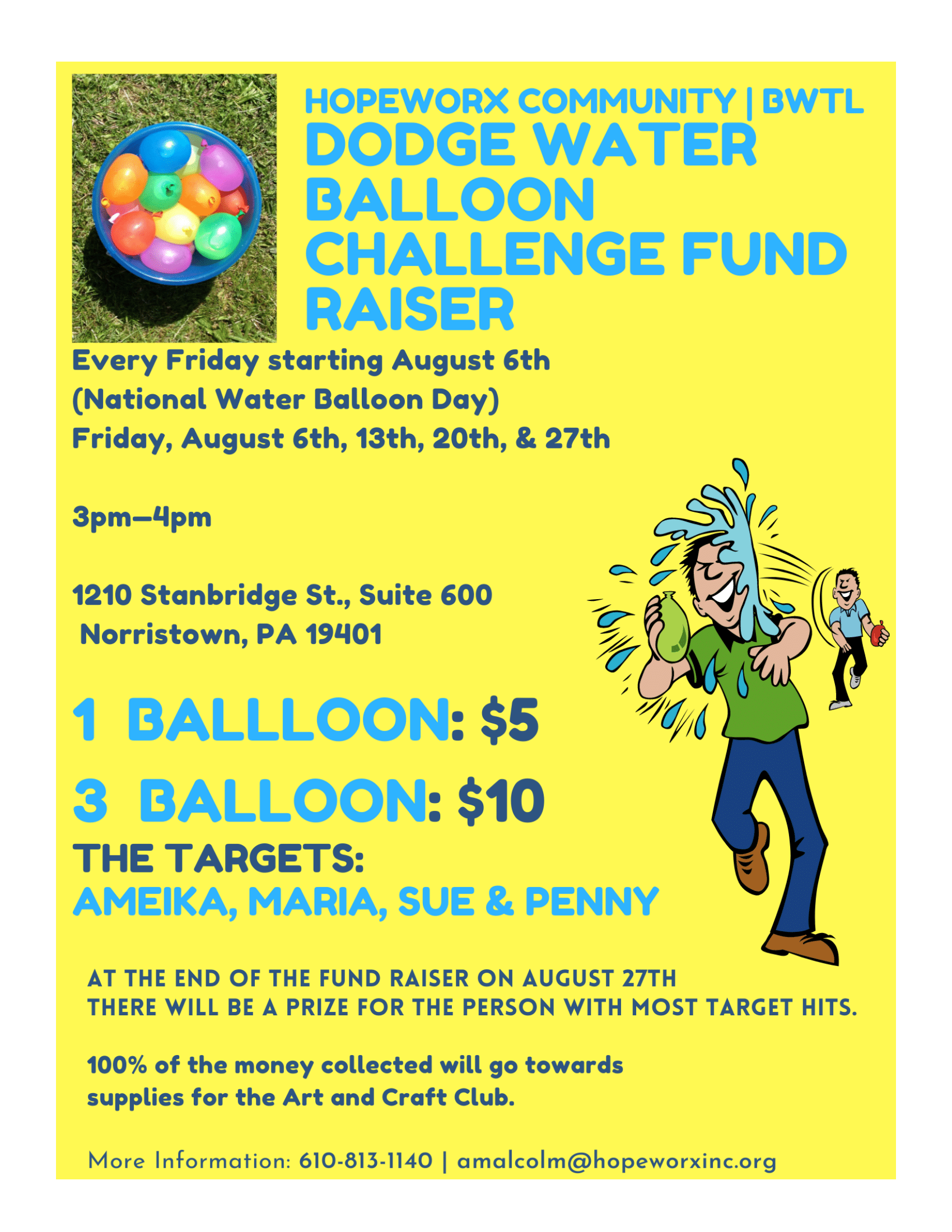 CommunityWorx (formerly the HopeMarket) is making a splash with its new fundraiser the "Dodge Water Balloon Challenge". The Challenge kicks off the CommunityWorx Annual Giving Campaign – a brand new fundraising campaign that will include a series of fundraisers throughout the year. The goal of the CommunityWorx Annual Giving Campaign this year (its premiere year) is $10,000. The 2021-22 campaign will end on June 30, 2022.
And the fun has already started!
The Dodge Water Balloon Challenge is running every Friday in August from 3 to 4 p.m. at the HopeWorx office…outside of course! On Friday, August 6th, National Water Balloon Day, many people showed up to buy a few balloons and throw them at the targets – some brave HopeWorx staff.  Staff included: Ameika, Maria, Sue and Penny. Buy one water balloon for $5 or buy three water balloons for $10.
Sue Shannon, Executive Director of HopeWorx, Inc., the parent company of CommunityWorx, said after the challenge that they were able to raise $580. Check out the HopeWorx, Inc. website to follow the event and future fundraisers at https://www.hopeworxinc.org/what-we-do/communityworx/.
The next Dodge Water Balloon Challenge is on Friday, August 13th, from 3 to 4 p.m. The staff from CommunityWorx and all of HopeWorx is hoping to see you there. All proceeds from the Challenge go toward purchasing supplies for Arts and Crafts Club at CommunityWorx.
For more information, contact Ameika Malcolm at 610-813-1140 or amalcolm@hopeworxinc.org.