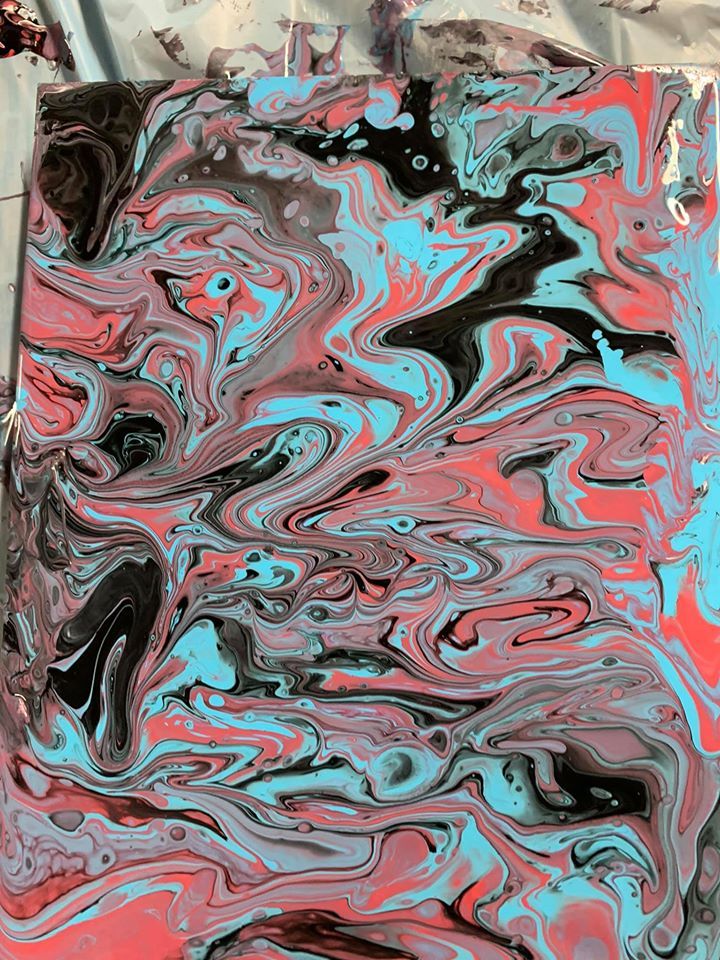 Since October 2019, every Friday afternoon - free of charge to participants - art classes are held at HopeMarket, a place where generosity and kindness can be found in abundance.
My name is Maria Maneos and I am the resident artist for HopeMarket, as well as the Founder and Director of Brush With the Law, a nonprofit public arts organization dedicated to helping people reconnect with the community by doing collaborative creative art projects for disadvantaged communities and socially marginalized populations. Brush With the Law is also utilized by the Montgomery County District Attorney's Office where people who have community service hours to fulfill are assigned to serve them through the Brush With the Law program.
Our first HopeMarket art class started with decorating masquerade masks by using paints, glitter, rhinestones, feathers, and lots of other materials as a way for participants to express themselves for who they are, who they envision to be, and to help identify aspects of their identities that they want to present to others as well as aspects they choose to conceal.
Our next class was layered tape paintings on canvas panels where we added tape in various designs then added paint to the areas that the tape did not cover, let it dry, and then repeated the process until the canvas no longer had any blank spaces and felt finished to the person's liking.
Third class we used air dry clay, a natural earth clay that air-dries to a hard solid without baking or firing needed.  Working with clay helps to improve dexterity, fosters eye-hand coordination and lends itself to improving upon one's focus and attention span.  We rolled, coiled, stamped, and sculpted objects, let dry, then painted. These are just a few of the projects we have done thus far and have so many more to come, such as, wood block drawings that will eventually be assembled into a city like sculpture, scrap metal recycled art, still life painting, and the list of ideas go on.
The classes have been designed to alleviate (if only for a while) the overwhelming pressures people ensue daily due to the hectic world we live in. The art of making gives participants the chance to slow down and explore ideas since the focus is more on the process and less about the aesthetics of the final product. (Although, the pieces that have been produced are interestingly beautiful.) Mental health professionals and experts agree that the making of art has many benefits, from boosting your self-esteem, to providing a safe outlet to relieve emotions nonverbally, to giving  a sense of control over one's life and helping to get to know and understand oneself better.
As we sit together every week and work on the various projects together it allows time for participants to express their feelings and thoughts. Bella, a faithful student who attends every week was asked why she likes coming to the HopeMarket classes and she answered that it allows her to be social with others instead of being home alone and gives her the security to express herself freely and openly. Ian, one of HopeWorx's (parent organization of HopeMarket)  longtime constituents  attends every class faithfully and feels empowered by the work he has produced.
My infatuation with art and creativity started with coloring books and the occasional paint by numbers sets and has been a constant in my journey of life having received my Bachelors of Fine Arts from Arcadia University and my Masters of Fine Arts degree from the Pennsylvania Academy of the Fine Arts.
I am thrilled and humbled to be teaching these art classes at HopeMarket and hope more inclusive opportunities for community arts arise from doing it.