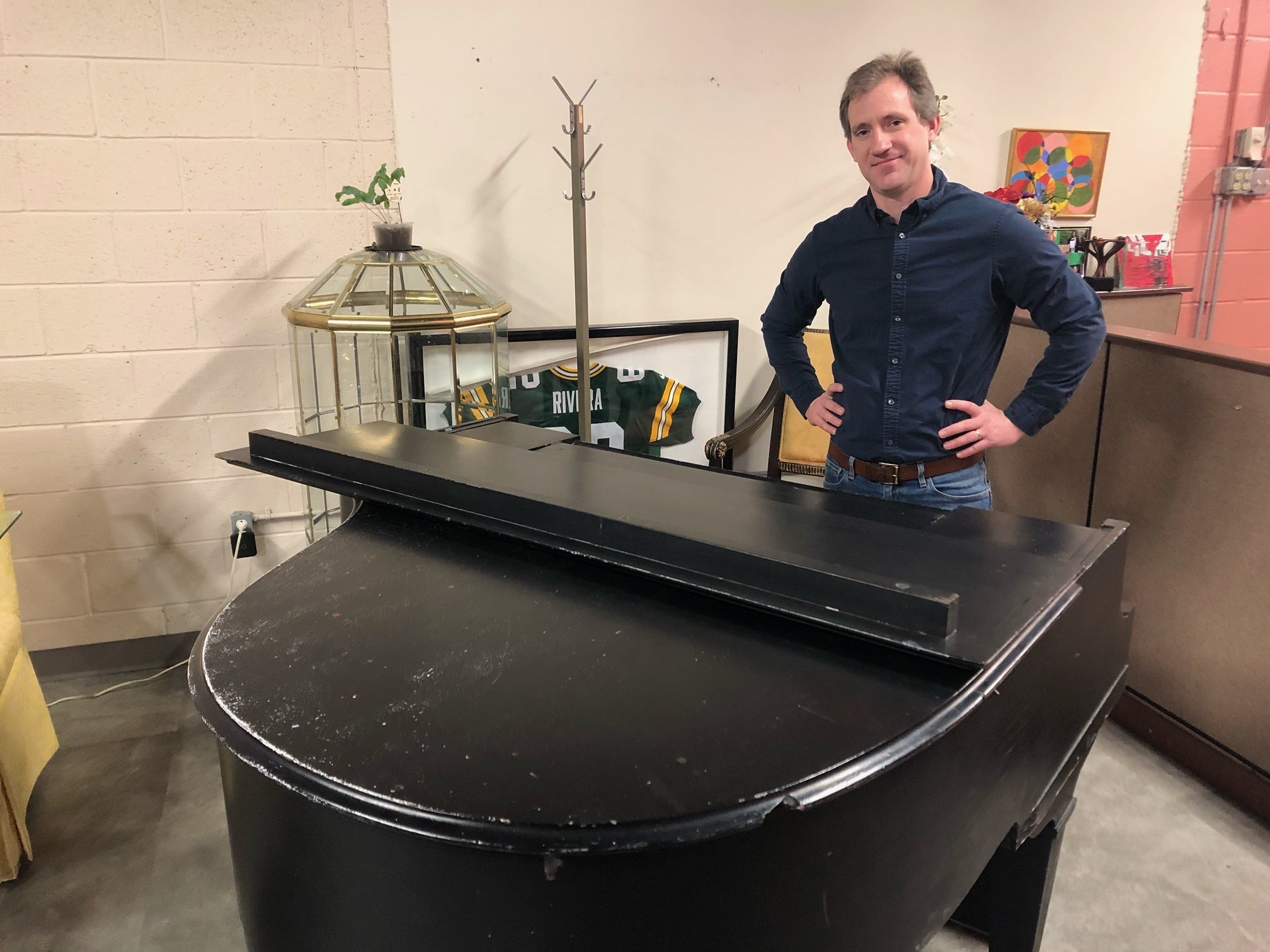 The National Boston Grand Piano has been a mainstay at HopeWorx for many years, providing pleasure for musicians whose fingers danced over the keys and enjoyment for all who appreciate the sound of music.
Over the years, however, the piano acquired a few bumps and bruises, and even a broken leg, which apparently changed its tune.
A move from one room to another and back, didn't help its condition. This was quite a feat as pianos are known to be extremely heavy. The piano was moved from the HopeWorx lounge to the HopeMarket while the carpet in the lounge – damaged by a leaky roof – was replaced with laminate flooring, said Sue Shannon, HopeWorx Executive Director.
"So we had to move the piano into the HopeMarket and then back out – one of the legs is broken, so it was quite the operation," Shannon said. "That, of course, knocked it completely out of tune, and we lost the bench. But the piano has been there and we've tinkered with it".
Then at Thanksgiving, HopeWorx had a party and Staff Member Bryan Stoffregen – an expert pianist who plays by ear - played the piano, and the video ended up on the HopeWorx Facebook Page. The video caught the attention of a piano enthusiast who just so happened to be the original owner of the piano, Robbie Altenor.
Robbie and her husband, Aidan, had donated the piano to HopeWorx and had also paid for moving it and tuning it. They were glad to see it was being used, but also a bit distressed at the tuning, Shannon said.
"Robbie called me up immediately and said she was sending money to get it tuned," Shannon said.
Grateful for the opportunity to get the piano back in shape, Shannon asked Operations Manager Harry Bowles to start calling around for a piano tuner. Bowles found a local tuner named Phil McKenna, who it turns out, was the same person who tuned it almost a decade ago.
McKenna, a Piano Tuner and Technician, was more than happy to return and give the Boston Piano a tune up.
"Rather than charging us, he told me how he really supports what we do and felt that music was a very important part of mental well being, so he donated his work of tuning to HopeWorx," Bowles said. "We talked about how he does piano tuning for a lot of people stressed about work that use playing the piano as a way to decompress."
Shannon said she plans to put the donation from the Altenors aside until the piano needs to be tuned again to get in the habit of tuning it regularly. 
Phil McKenna can be reached at 610-299-2465.
To see and hear the newly tuned piano, click here.